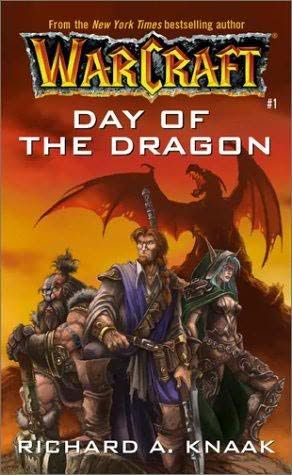 When someone asks a person who reads fantasy about their first ever book, the most common answer is either Hobbit or LOTR … or even Harry Potter. For me though those novels came later on, when I had already passed a few other books like … Day of the Dragon, for example. Being one of the first books from the fantasy realms I read, it makes much sense to say that it is actually a good one.
Hm … it does make sense saying it, but I am not so sure if there was any point in doing so.
Anyway… today is the Day of the Dragon. (don't mix with Day of the Dragons)
Back then I wasn't really sure why this book touched me in that strange way, only a decent piece of work can touch you. During the years I have thought that it's maybe the Warcraft universe – one of the richest and best constructed ones. Or maybe because I used to be impressed by dragons all that much …. the that talking about these 5 mighty, all-powerful beings, keeping balance in the world, sounded pretty strong to me.
Especially when we find out that they all have their individual ways and dramas … being so separated from one another, not really caring … even about the world they are supposed to watch over.
And the final stroke of energy when we see that not only that, but one of them has turned against everyone and everything, so HE can dominate over all life … well it still sounds like a good idea to write a book about. So it wasn't only because I was a lot younger.
Back to the matter … it turned out that none of the above (although some of the reasons I pointed out did have an effect for the book to be good and liked) were the reason. Later on I read more books about both the Warcraft universe and by Richard A. Knaak and I came to the conclusion that this guy can write pretty damn well. "Legacy of Blood", "The Last Guardian", "Moon of the Spider", "The Kingdom of Shadow" and the Warcraft Trilogy  – "War of the Ancients" – all quite interesting and fun to read. And if you like that, you will definitely like what he has written about the Dragonlance realm.
But about that – another time.
My point being that this dude – Mr. Knaak – possesses some talent and a good amount of magic with a close resemblance to R. A. Salvatore's, which logically means that the books ARE good. They aren't perfect, but they are good.
Although  … some might even be better than what Salvatore gives us. Because when it comes to Salvatore, he writes about the same characters all the time and just puts several new ones in different books to make things a bit more colourful, when Knaak writes about different people every time – all complex and completely different from one another.
So if one is the big journey of a well-known group of heroes, then the other is just a quicker, but still epic and interesting adventure of a party or one person. Both are sweet, I think, and if I must put a top 3 best fantasy authors at the moment, Richard. A. Knaak would definitely be there.
About the actual main characters of the book … well, for those that are really interested in it, and have known it for years and years, things I could say would make sense, but since I am trying to make a review for those that aren't familiar I will stick to the basics.
There is this wizard (or should I say mage, "cough-cough" WoW, "cough") called Ronnin who is given the task to go fetch this amulet from an orc. With him eventually stick an elf ranger named Veeresa Windrunner and this dwarf known as Falstad.
So it turns out that this amulet thing can not only summon an ancient and powerful demon, but is also the key to control the dragon Aspects.
I've been looking at the book for a while now and to tell you the truth, it's hard to find any fails or minuses there. So Knaak is either pretty familiar with everything or just the editing is very, very strict.
Every character, even the minor ones seem to have their place, they aren't just thrown around or anything (unlike some of the other books I have reviewed). There are many great beings involved, so if you don't like characters that are "squish" , then this a book for you. There are dragons everywhere, the bad guy Deathwing is pure win when it comes to villains, as he isn't only the  most powerful of his kind, if not the strongest, but he also manipulates the mortal races, turning tides the way he wants, not only by force, but with words, treachery and silent whispers in the king's year.
There are many exciting battles with not only orcs, but with trolls and dragon riders as well.
The conversations where Krasus, a dragon who lives his life as a mage among mortal races, looks for the Aspect dragons and talks to them one by one is amazingly well written.
But there are also funny moments, for example where Falstad shows his well-known dwarven lust for ale or the company of a good woman.
It's like there is a bit of everything in this book and maybe that is why it is so good. Well, of course, the big Warcraft world also makes a difference, but let's remember – when I first read it I had no clue what it was all about and World of Warcraft didn't even exist, so … there you have it – the proof.
Looking at this novel after all this years makes me realize how much I actually did enjoy it back then. It is really very unfortunate that in my country you can't keep a decent track on new books.
But anyway Richard A. Knaak is a person who CAN and DOES write decent fantasy nowadays, so I highly recommend you have a look at some of his works, if you haven't already.
~~~ Revenant
P.S. I have been really busy recently with my school and work, but hopefully I will be able to write at least one review per week from now on, without missing.
Next time it's Icewind Dale Trilogy, hopefully.
Cheers.